Registration
Online Registration
NEW Online registration for all new WCPS students wishing to attend ÉLUES in 2019-2020.
All students new and returning to ÉLUES need to register their child online via PowerSchool Registration. A paper copy of the registration form is not available.
What is PowerSchool Registration?
PowerSchool/Infosnap Registration is our online enrollment system. PowerSchool Registration replaces annual paper registration packets, saving valuable time. The new system is a secure process that allows the school to verify all student information for every child prior to the start of the new school year.
Questions? Having trouble registering?
We will be happy to help! Please call the office at 403-782-7410 and ask for Mrs. Broderson.
If you need to order your child's birth certificate click on the link to Alberta Services.
Please Note: A copy of original birth certificate and other legal documentation (custody orders, etc.) need to accompany registration or a comment to when you will be able to submit them. Please be diligent in completing these applications as accurately as possible.
Once your registration form has been completed and submitted you will be contacted by the school to set up an appointment to complete your child's registration.
*Students returning to ÉLUE will complete the re-registration process in the Fall of 2019*
2019-2020 NEW to École Lacombe Upper Elementary School students, click here to register.  
School Supply Lists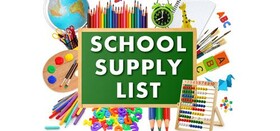 Click here for information on supply lists for 2019-2020.
Busing
All busing registrations must be completed online. To register for busing, please CLICK HERE